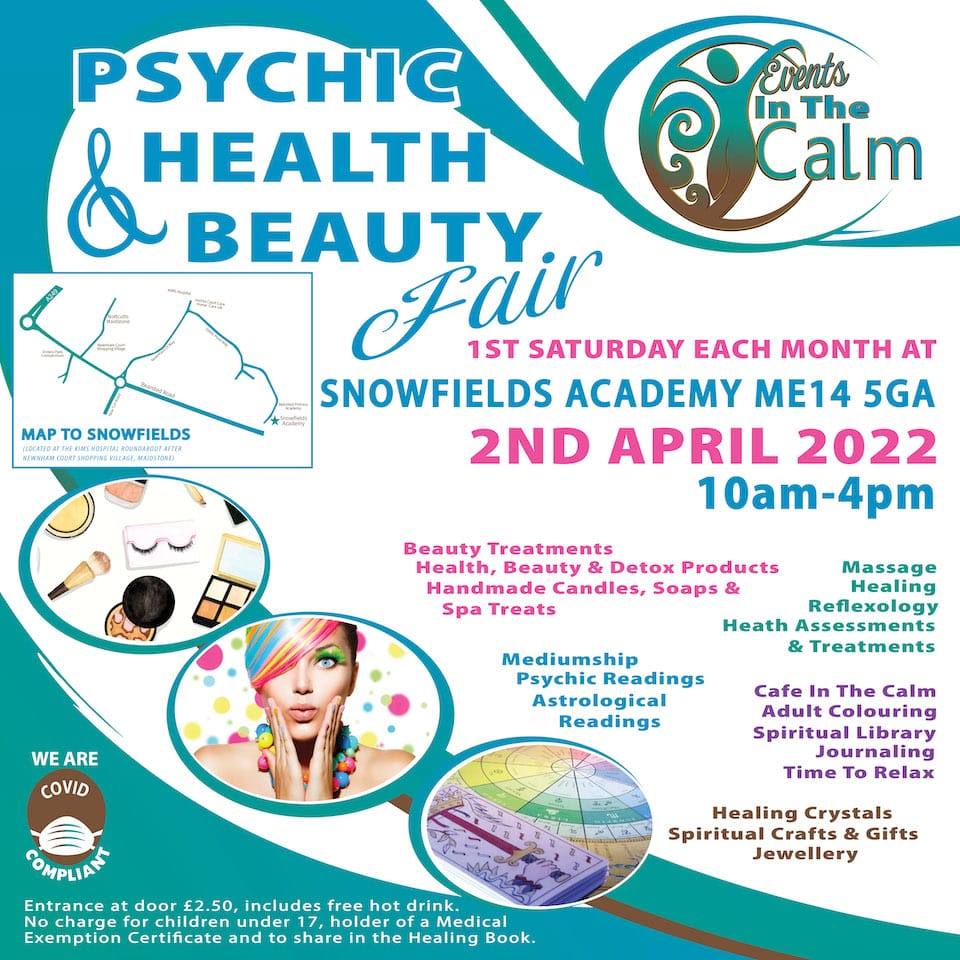 Maidstone Psychic Health and Beauty Fair April 2022
A monthly fair in a bright airy place with the space for taking time out by yourself, meeting new friends, connecting with our community or just having a chat.
If you need guidance for your personal life, career or business, then our readers offer a range of tarot, angel, oracle, mediumship, numerology and astrological guidance.
Perhaps you would like to refresh physically ready for the week ahead?  Our fully qualified therapists offer beauty treatments, such as facials, manicures and waxing, and our health experts can help with healing, reflexology and a range of massage therapies.
Readings and treatments from £20.
The cafe has fresh brewed Italian or French blend coffee with cream and there is a range of organic and herbal teas.  Plus, you can have a simple savoury lunch and fresh cakes.
There's free adult colouring supplies and a selection of books and magazines to browse.  Of course, you can also bring your own and spend the day catching up on your reading and journaling.
The event is a great place to find unique gifts and treats for you and your loved ones and because it's every month, you can easily slip it into your personal care and rejuvenation schedule.
Getting Here
There's free parking on site and easy access to the venue and all facilities.  You can relax, reconnect and regroup, seek guidance, health and beauty support and stock up with gifts and supplies, without the hassle of having to park miles away and travel from place to place.
How to find us WhatThreeWords ///launch.limes.ranks
Exhibitors
AMF Holistic Wellbeing

Reflexologist and Massage Therapist

Annemarie, founder of AMF Holistic Wellbeing is a holistic therapist, offering a range of treatments focused on Reflexology and Massage.

As with all of our therapists, AnneMarie gives bespoke treatments based on an initial assessment of you as the client.

Beatrice Marcu

Mind, Body and Soul Aligned

I'm Beatrice of Mind, Body and Soul Aligned, a Human Design Specialist, Energy Mentor, and Flower Alchemist.

Mini Human Design readings, 30 minutes – £55
Energy Alignment by Design sessions, 60 minutes – £97
Beatrice's Elixirs by energy centres, including a Flower Meditation – 30 ml – £19.80. These are Reiki infused blends of flower essences designed to reduce and clear the distortions of frequency in your Open or Not-Defined energetic centres.

Also, I'll take bookings for online individual sessions at a 10% Spring Discount throughout March and April and take orders for "Aura Booster" – customised flower essences by Design.

Broomsticks and Cauldrons

Pagan and Wiccan Gifts and Supplies

Visit for spell and altar supplies, gifts , collectible pendle witches Lisa Parker and Anne Stokes merchandise from the Pagan and Wiccan gift and supply shop stocking a range of every day essential's for your spell workings and more…

Colleen Moonbeam

Psychic Medium

Colleen Moonbeam is a Psychic Medium who also offers Chakra Balancing, Oracle Card Readings and Spiritual Guidance so people can create better versions of themselves.

Creatives Knit Designs

Bespoke Knitted Accessories by Sarah Ives

Handmade is special and these are lovely warm, stylish accessories which Sarah Ives can design just for you. If you would like a particular colour or size, that's no problem. How about a matching set for you and your little ones.

Sarah does much more than accessories and you can buy or order a bespoke one just for you.

Kay Best

Psychic Medium

Kay Best is a renowned psychic medium who also specialises in hypnotherapy, past life regression, and energy works. Alongside her psychic guidance, Kay offers accredited courses in many holistic therapies.

Kay is very well known in Kent and across the UK and is one of our most in-demand readers.

To pre-book a reading with Kay please contact her directly by phone.

Kirsty Stevenson

K wax and soaps

Hand Made By Kirsty Stevenson these are beautiful Wax melts, candles and soaps with amazing smells are they can also be made-to-order.

Beautiful wedding decoration, Mother's Day Gifts and the perfect piece to brighten up any room.

Lucy Carr

Tropic Toxin Free Cosmetics

Lucy Carr became a Tropic brand ambassador after using the products herself for a few months.

She has lived a toxin-free lifestyle when it comes to her products for about 8 years so was thrilled when she originally came across Tropic and their beautiful products.

Lucy is now a leader within Tropic and absolutely loves sharing the products.mShe gets great satisfaction out of also knowing she is helping people to live a healthier lifestyle due to the products they put on their skin.

Visit Lucy to test Tropic products for yourself and chat about, how they help with anti-aging, skin care and more.

Sharn's Sparkle Beauty

Body Shop Products

Body Shop products are always a favourite at the fairs. Whether you're treating yourself or buying a gift box for a special someone, Body Shop have wonderful, natural gifts at affordable prices.

Visit Sharn's Sparkle Beauty, by Sharn Luxford, to browse or pick a treat from only £2!

Twinkle Toes

Bags, Purses, Scarves, Jewellery And Hair Accessories Retailer

Twinkle Toes was founded by Sharon Claydon, a small business owner, and busy Mum and Nanna, makes and sells a wide range of items, such as bags and accessories.

Browse bags, hair accessories, purses, jewellery and more. Plus, if you need something special that you can't see on the day then Sharon is happy to take orders.