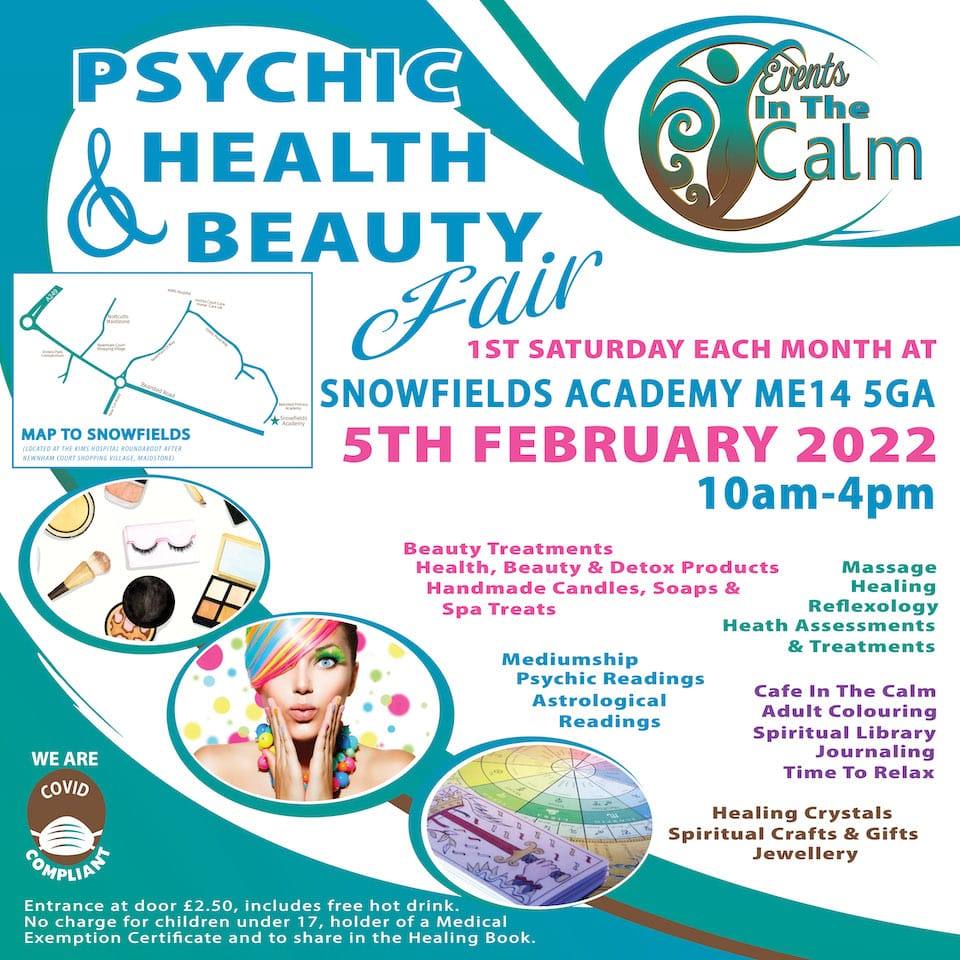 Maidstone Psychic Health and Beauty Fair February 2022
A monthly fair in a bright airy place with the space for taking time out by yourself, meeting new friends, connecting with our community or just having a chat.
If you need guidance for your personal life, career or business, then our readers offer a range of tarot, angel, oracle, mediumship, numerology and astrological guidance.
Perhaps you would like to refresh physically ready for the week ahead?  Our fully qualified therapists offer beauty treatments, such as facials, manicures and waxing, and our health experts can help with healing, reflexology and a range of massage therapies.
Readings and treatments from £20.
The cafe has fresh brewed Italian or French blend coffee with cream and there is a range of organic and herbal teas.  Plus, you can have a simple savoury lunch and fresh cakes.
There's free adult colouring supplies and a selection of books and magazines to browse.  Of course, you can also bring your own and spend the day catching up on your reading and journaling.
The event is a great place to find unique gifts and treats for you and your loved ones and because it's every month, you can easily slip it into your personal care and rejuvenation schedule.
Getting Here
There's free parking on site and easy access to the venue and all facilities.  You can relax, reconnect and regroup, seek guidance, health and beauty support and stock up with gifts and supplies, without the hassle of having to park miles away and travel from place to place.
Exhibitors
AMF Holistic Wellbeing

Reflexologist and Massage Therapist

Annemarie, founder of AMF Holistic Wellbeing is a holistic therapist, offering a range of treatments focused on Reflexology and Massage.

As with all of our therapists, AnneMarie gives bespoke treatments based on an initial assessment of you as the client.

Creatives Knit Designs

Bespoke Knitted Accessories by Sarah Ives

Handmade is special and these are lovely warm, stylish accessories which Sarah Ives can design just for you. If you would like a particular colour or size, that's no problem. How about a matching set for you and your little ones.

Sarah does much more than accessories and you can buy or order a bespoke one just for you.

Holistic Hands Kent

Cyrstal Healing and Therapist

Jacqueline Mclaren is fully qualified as a Usui Reiki Practitioner offering treatments such as Reiki, Crystal Healing, and Indian Head Massage.

A range of holistic healing treatments means Jacqueline is always kept busy and of course she brings a wonderful energy to the events and to support her clients.

Sharn's Sparkle Beauty

Body Shop Products

Body Shop products are always a favourite at the fairs. Whether you're treating yourself or buying a gift box for a special someone, Body Shop have wonderful, natural gifts at affordable prices.

Visit Sharn's Sparkle Beauty, by Sharn Luxford, to browse or pick a treat from only £2!