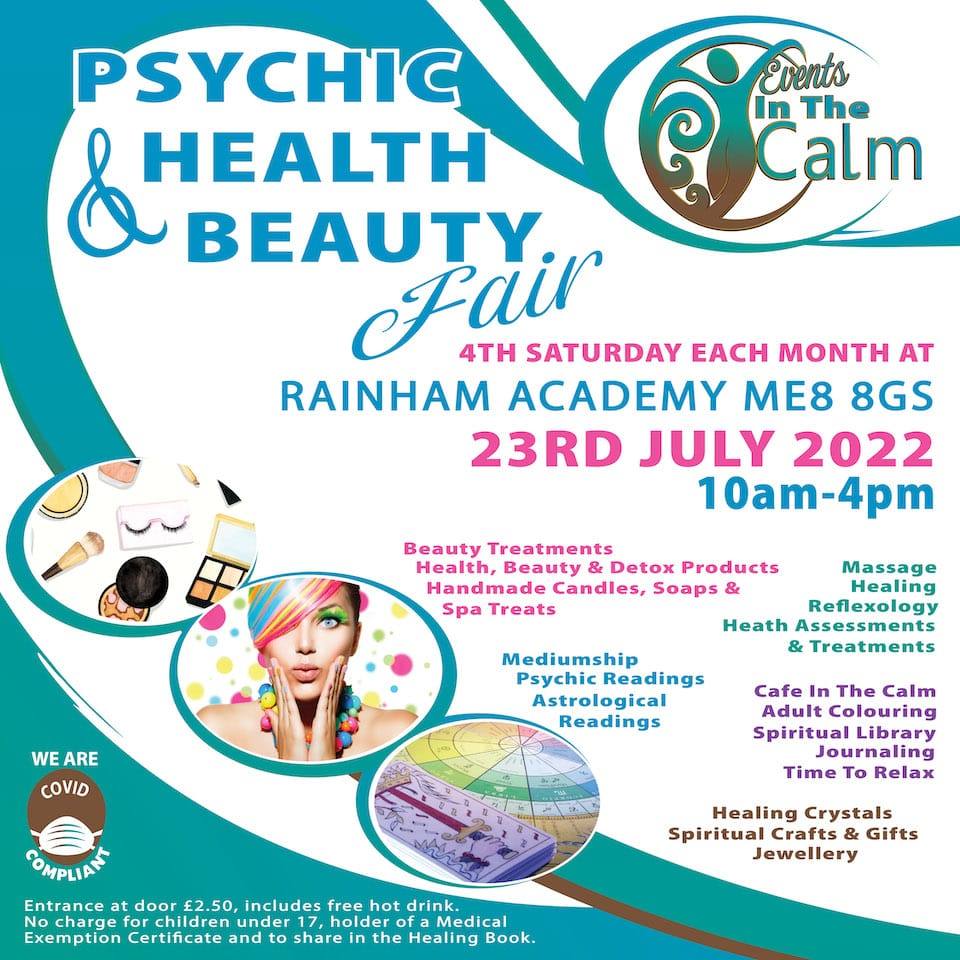 Rainham Psychic Health and Beauty Fair July 2022
A monthly fair in a peaceful venue with the space for taking time out by yourself, meeting new friends, connecting with our community or just having a chat.
If you need guidance for your personal life, career or business, then our readers offer a range of tarot, angel, oracle, mediumship, numerology and astrological guidance.
Perhaps you would like to refresh physically ready for the week ahead?  Our fully qualified therapists offer beauty treatments, such as facials, manicures and waxing, and our health experts can help with healing, reflexology and a range of massage therapies.
Readings and treatments from £20.
The cafe has fresh brewed Italian or French blend coffee with cream and there is a range of organic and herbal teas.  Plus, you can have a simple savoury lunch and fresh cakes.
There's free adult colouring supplies and a selection of books and magazines to browse.  Of course, you can also bring your own and spend the day catching up on your reading and journaling.
The event is a great place to find unique gifts and treats for you and your loved ones and because it's every month, you can easily slip it into your personal care and rejuvenation schedule.
Getting Here
There's free parking on site and easy access to the venue and all facilities.  You can relax, reconnect and regroup, seek guidance, health and beauty support and stock up with gifts and supplies, without the hassle of having to park miles away and travel from place to place.
Exhibitor
Microblading & More

Advanced Skin Treatment & Make-up - Beauty Therapist

Fiona Shoults is the founder of Microblading and More who specialises in helping women feel better about themselves in the most natural way possible, regaining a confidence they may have lost as a result of age, illness or maybe even an accident.

With a variety of treatments from permanent make-up to medical facials there is so much support to help you feel better in yourself, which is vitally important to wellbeing.

Visit Fiona for a chat or consultation or just to find out what the different treatments offer for you.